How to Increase Twitter Engagement – Here are the Most Effective Strategies
Whether you're running a business, a blog or trying to enhance your brand's popularity, you perhaps already know the importance of being active on social media. Needless to say, social media is not only where your target audience hangs out but it's also an exceptional way to reach out and connect with them. As one of the most popular social media networks (with 320 million active users), Twitter is an excellent platform to reach out to users, grow your audience, and increase your conversion rates.
Twitter is, without a doubt, one of those social media platforms that work perfectly well with everything from building relationships with your audience to generating leads. And because it's a fast and overwhelming platform that can get you easily buried in millions of updates that are always live on the platform, you sometimes wonder how to increase your brand's Twitter engagement and get more out of your Tweets.
Honestly speaking, Twitter is one of the most flexible social media platforms out there. However, it's easy to remain completely obscure in there if you do not grasp how to go about it and how to engage your audience. That being said, here are the most effective strategies to help you enhance your Twitter reach and engagement. After all, studies show that 72% of Twitter users are more likely to buy from brands that they follow than those that they don't.
Schedule Recurring Tweets
Believe it or not, the lifespan of a single tweet is pretty short and you'll be very lucky if your tweet stays relevant for 30 minutes! That's because the average lifespan of a tweet is 18 minutes. Well, that's understandable if you take into account the millions of tweets and updates that go live every minute.
For this reason, you should publish the same tweet a couple of times, especially if the tweet is of great importance to you and your brand. By publishing the same tweet a couple of times, you'll capture the attention of more users that you would otherwise not reach if you only updated the tweet once. To achieve this, consider publishing the tweet at least three times and tag the author as shown in the picture below.
Have a Twitter Advertising Plan
As we've noted above, the average lifespan of a tweet is 18 minutes. For this reason, you should have a concrete Twitter advertising plan that allows you to tweet frequently. This will not only keep your target audience engaged but will also help you keep a stream of up-to-date tweets.
Having a plan in place is also essential in the sense that it ensures that you tweet frequently without over-doing it, which can be detrimental to your marketing campaign. You should, therefore, plan tweets in advance so that you do not post updates on a whim.
Nurture Your Relationship with Your Audience and Respond to Mentions
Today's consumers value their relationship with brands more than anything else. That's why they prefer using social media space to ask questions and interact with people who also love the brand. In other words, consumers feel valued when you devote your time to interact with them on Twitter.
So instead of just promoting your brand, interact with your audience in a fun and captivating manner. This includes encouraging your audience, replying to their queries and mentions promptly and conversationally, and taking a more personal route as shown in the pictures below.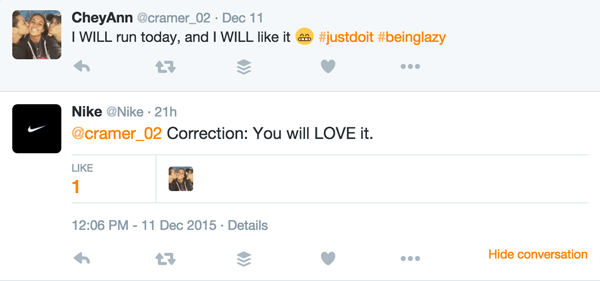 Remember, we all desire human connections, and you can perfectly do that by motivating your target audience to reach their potential. Again, remember that's we all desire to be validated. You can do this by retweeting your followers' posts and showing them that you recognize the value of their content.
Add Visual Content
According to a study, tweets with images receive 150% more retweets than those without. Well, this is proof enough that visual content performs excellently well with users and stimulates engagement. If anything, today's social media users love consuming and interacting with visual content That's why visual-based social media platforms are becoming more popular than ever before.
Whether it's user-generated photographs, videos or infographics, visuals can do wonders in captivating users and making them give your tweet a second glance. The use of images in your tweets perfectly resonates with the adage; "a picture is worth more than a thousand words," and so you should give it a try.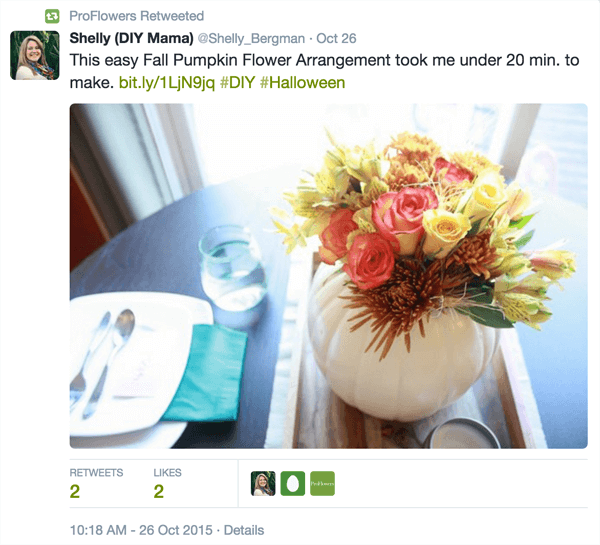 Connect with Influencers and Use Trending Hashtags
Connecting and interacting with influencers or users who have a huge and authentic following is a great way of engaging and reaching out to users who may be interested in your brand. It's important to target influencers who tweet topics that are relevant to your brand and business and, of course, have a positive reputation with their followers. For instance, you can consider reaching out to a celebrity who has an interest in topics that are related to your brand.
You can also use trending hashtags that are related to your brand and use them when they're still popular. By doing this, it's highly likely that trending tweets will appear in your feeds, thereby engaging more users in the process.
Conclusion
To this end, it's easy to see why Twitter engagement remains one of the most crucial and relevant ways of interacting with consumers. As a modern brand, there's a lot to be gained from having an active Twitter account and engaging users frequently and constructively.
By following the above-described strategies, it won't be long before you reach more users, generate more leads, and expand your brand and business to a whole new level!